Fun Fabric Shoelaces
Hi! I'm Kathleen, from Fearlessly Creative Mammas and I am so happy to be a new contributor here at Busy Moms Helper. I blog with my sister about crafts, diy, recipes and family. We have a lot of fun over there and I hope you will come by and see us! Today I'm going to share with you a fun way to add some personality to your shoes with these fantastic Fun Fabric Shoelaces!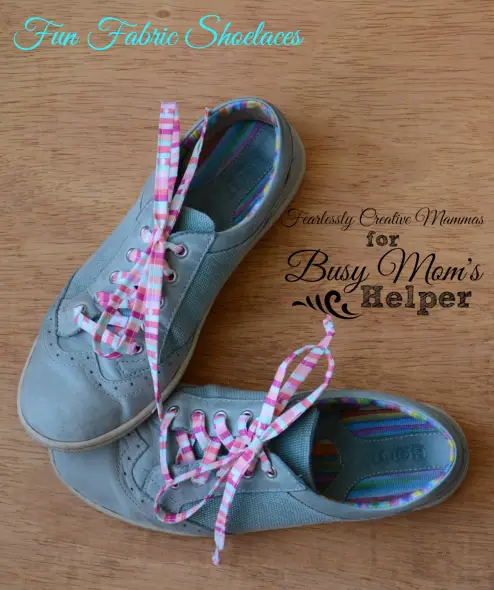 Your kids would love these too. They are easy to make and pretty quick as well. It took me a little longer to make these than it should have because I just moved and I couldn't find my fabric or thread. You would think that with all of the fabric I have (there's a lot) I would have been able to find what I was looking for. Nope. It was like a needle in a haystack. Have you ever seen fabric shoelaces? If not, today is the day you do!
This is what my shoelaces looked like before I changed them out. I truly hate it when I'm tying my shoes and the laces break. It usually happens when I'm in a hurry and you know, I don't keep spare laces at home. Do you? The first thing I did was take the laces out of my shoes and measure them, so I made the new laces long enough. My laces were 40 inches long.
Cut a piece of fabric the length of your laces, 40 inches in this case, and 2 1/2 inches wide. You don't want to go wider or they won't fit in your shoes. Fold the fabric in half lengthwise and iron it. Then cut it on the fold. (This is a great way to use some scraps.)
For each piece, fold in each side, to the middle.
Next, fold it in half. Then iron and pin it to hold it in place.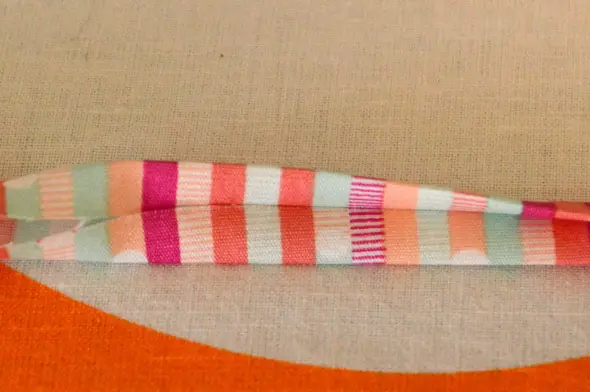 Finally, you sew each lace, all the way lengthwise, being sure to get each layer. When you start and end each lace, fold the lace in half so you are making a more narrow end. This will make it a lot easier to lace the shoes. You only need it to be the smaller size right on the ends, like regular laces.
I really love my new laces. And did you see the inside of my shoes? They almost match! These are so much fun!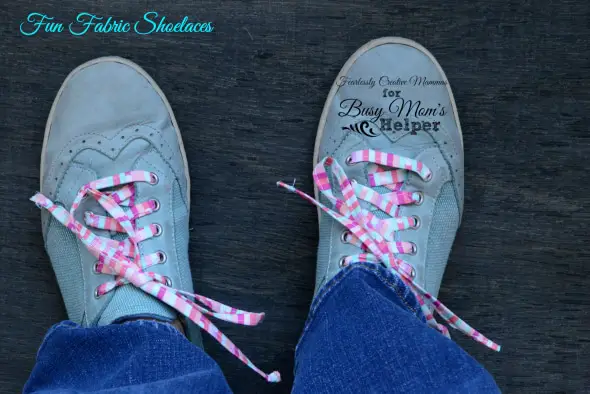 I think kids would really love to have laces in their favorite colors or characters too. Don't you?  You can also make some for each holiday, to show your holiday spirit! You might be making lots of laces. Have fun with it! Who are you making your first pair of laces for?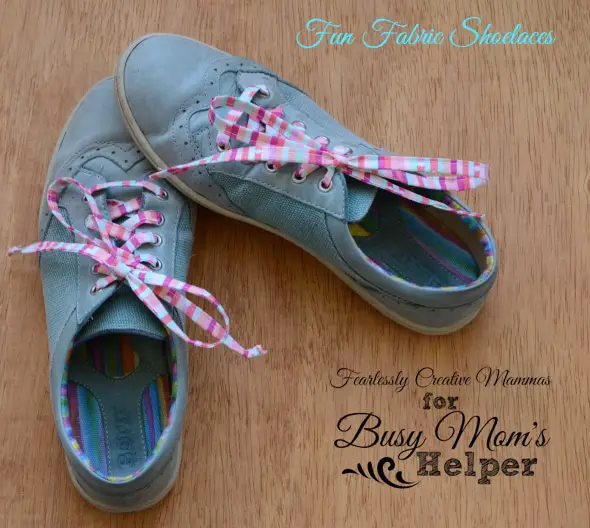 This content may contain affiliate links. We earn a commission at no extra cost to you if you make a purchase. We may earn money, free services or complementary products from the companies mentioned in this post. All opinions are ours alone…
The following two tabs change content below.
I live in Southeast Idaho with my wonderfully supportive husband. We have three grown kids and three beautiful grandkids. I love to spend time with my family, travel, create recipes, craft, sew, camp, hike and take photos. I've been blogging at Fearlessly Creative Mammas since April 2012, but blogging in general since February 2011 on Pebble Pirouette. My favorite place to be is the beach and although I own a home in Idaho and land in Alaska, I truly hate the cold.
Latest posts by Kathleen Clegg (see all)