Pumpkin Better Than Disneyland Pie
This week is Thanksgiving, and I haven't even thought twice about what recipes I'm going to be changing or adding to the menu! Guess I better get on the ball, huh? Whatever other things I make besides turkey and gravy, though, I'm sure this Pumpkin Pudding Pie (aka: pumpkin better than Disneyland pie) will be on the list. It's super delicious, creamy and full of smooth pumpkin flavor. A definite winner for Thanksgiving dessert! (originally shared May 2013)
To be honest, I'd almost rather this than normal pumpkin pie at Thanksgiving! If you're wondering about the name….we try to use extremely kid-friendly words and names, and avoid any words that we don't want to have to explain to our little ones just yet. So in our home, instead of what most people use when 'better than….' we use Disneyland. That's one of our absolute favorite things, so if something's better than Disneyland, you know it has to be fantastic! (at the moment, I'm wishing I were at Disneyland, though!)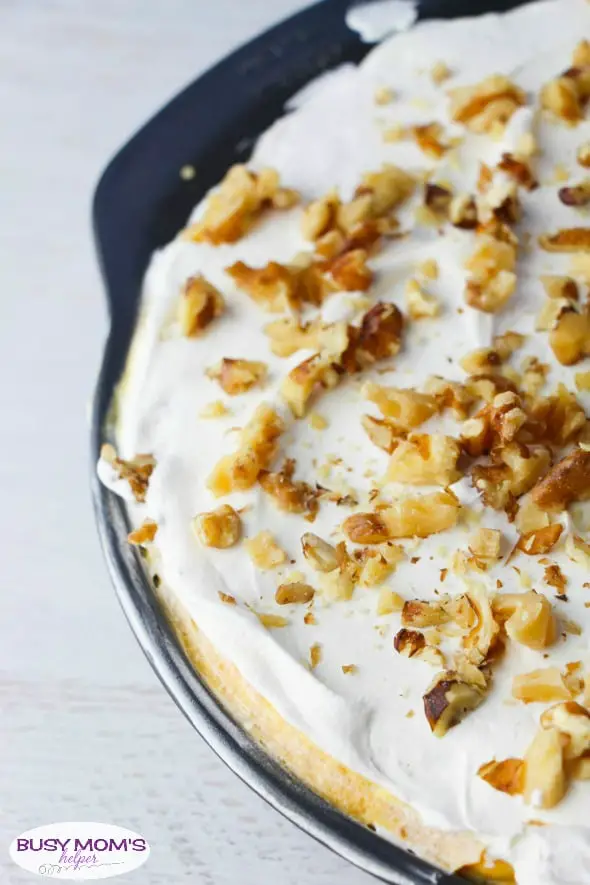 Ingredients
1 cup Flour
1/2 cup Butter
1/2 cup plus 1/4 cup Walnuts or Pecans, chopped
8 oz. Cream cheese
1 cup Powdered sugar
3 cups Whipped topping, divided
2 1/2 cups Milk
2 pkgs. Vanilla instant pudding mix, 5 1/4 oz. size (Thank you Ann for pointing this out!)
2 cups Pumpkin, canned
2 tsp. Pumpkin spice
Directions
Preheat oven to 350 degrees. Mix the flour, butter and 1/2 cup walnuts or pecans together. Press into a sprayed 8×8 cake pan. Bake for 15 minutes, then remove and allow to cool.  
Blend cream cheese and powdered sugar, then add 1 cup of the whipped topping. Spread over cooled crust. 
Mix milk, pudding mix, canned pumpkin, pumpkin spice and 1 cup whipped topping until smooth. Spread over the cream cheese layer. Top with remaining 1 cup of whipped topping and 1/4 cup walnuts or pecans. 
Chill for 3 hours or until set.
Notes: Instead of just spraying the pan, I lined it with aluminum foil so I could remove it and keep the edges nice. We tried this both refrigerated and frozen, but all of us preferred the creamy refrigerated version.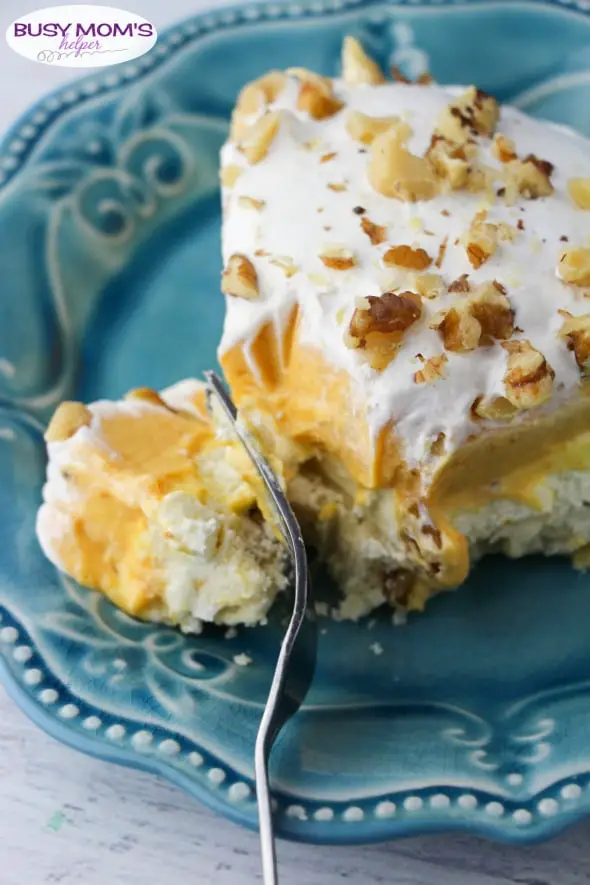 What Thanksgiving dessert will YOU be making?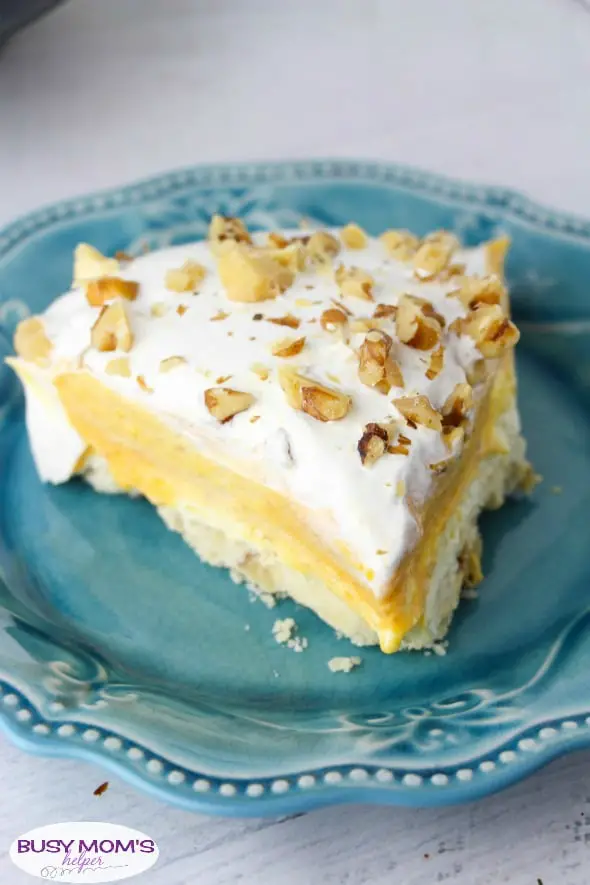 This content may contain affiliate links. We earn a commission at no extra cost to you if you make a purchase. We may earn money, free services or complementary products from the companies mentioned in this post. All opinions are ours alone…
The following two tabs change content below.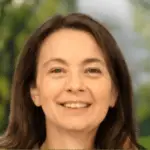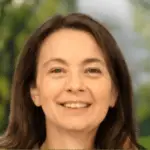 Latest posts by Kelly Dedeaux (see all)