Wallternatives Wall Decals Review
I received these Wallternatives free of charge to facilitate this review. All opinions are 100% my own.
Okay, so I've been dying counting down the days until I got to share this with you guys! It's a brand new product line launching TODAY! Seriously, look at how dang stinkin' cute these Wallternatives Wall Decals are!!!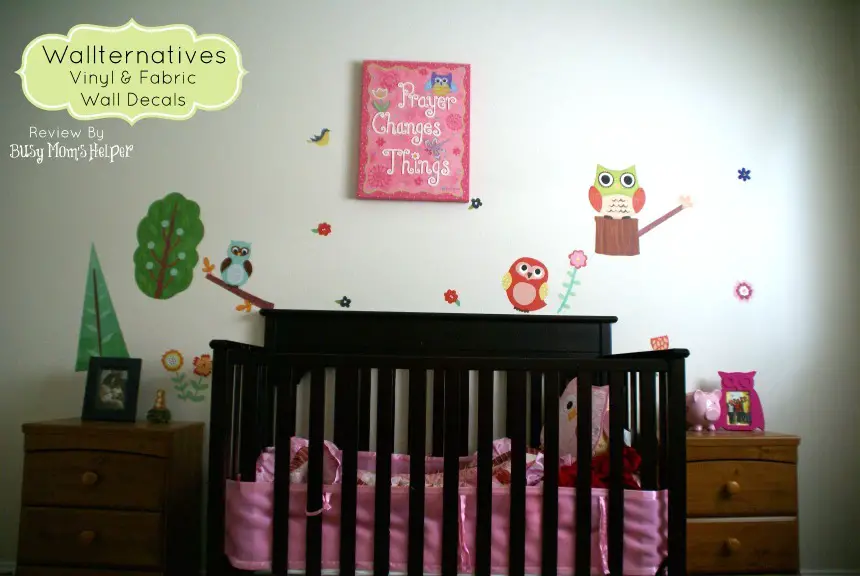 Just LOOK at that adorable fabric decor! Yes, I just said FABRIC decor. LOVE IT! So first, backstory time: I was first introduced to Royal Design Studios Stencils when I used their Starry Night Moroccan Stencil for my girl's FROZEN bedroom. I fell in love with their stencils, and was stoked that they were at SNAP! Conference that I attended at the end of April.
At the conference, they were showing us the preview for their AMAZING Wallternatives line! After looking through their many fantastic designs, I was just like Oh. My. Gosh! THEY HAVE OWLS! Anyone that knows my aunt (who lives down the street), she loves owls. Borderline obsessed. So guess what her sweet little modern baby girl's room is done in? Yup, OWLS! I saw that Wallternatives has these adorable Colorful Owls WallPrints™ Fabric Decals and KNEW I had to decorate my cousin's room with them.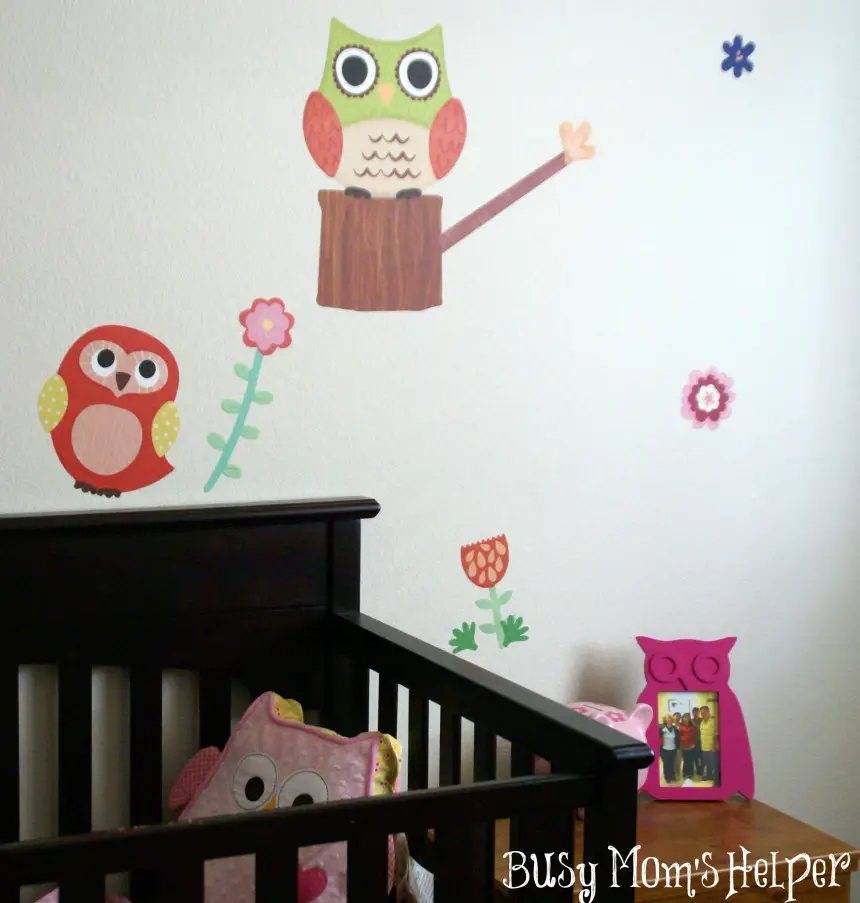 I said it before, and I'll say it again: SO STINKIN' CUTE!!! I'm in love with these….not only because they're absolutely adorable and fun, but they're also easily applied. You know how sometimes regular vinyl will fold onto itself and then you're just like 'well, that sucks' and have to throw it out, or rip it? NOT THESE! Seriously, they could stick together, and you just smoothly and easily pull them apart and continue with your decorating.
You can also layer the pieces together, like I did with the owl sitting on this branch and the leaves on the branch. They're actually SEPARATE pieces, but I placed them together. Of course, I didn't get it perfectly the way I wanted it the first try, so just pulled them apart and tried again until I found the layout I was hoping for.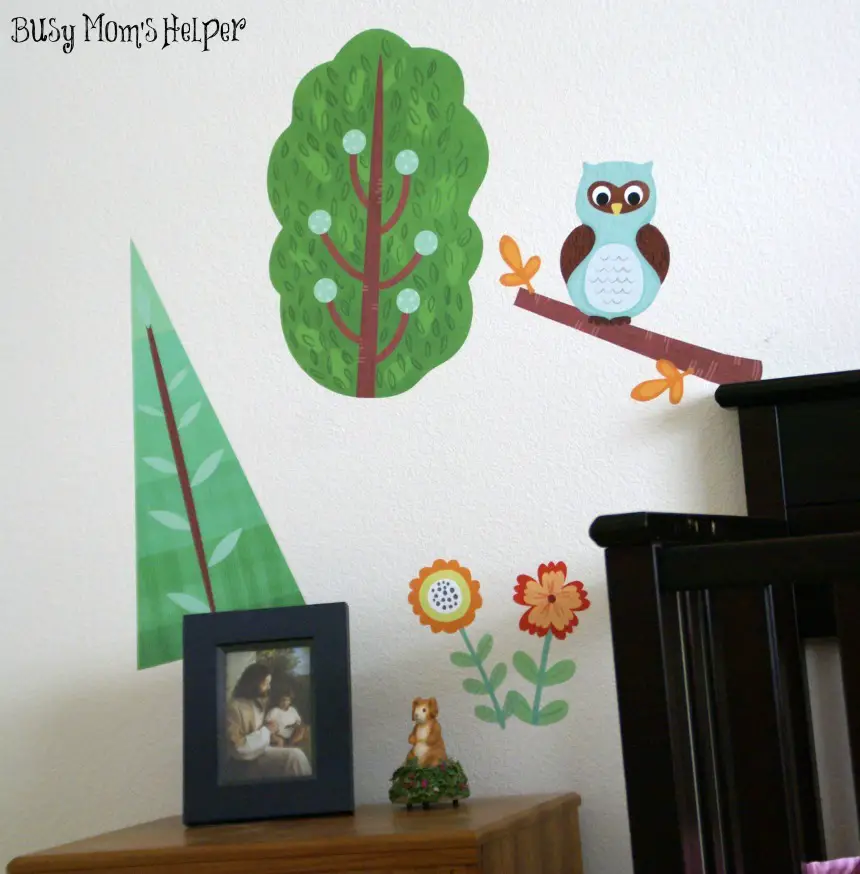 Another feature I'm stoked for is that they're able to be REAPPLIED again and again, as long as the adhesive is clean. They don't get stronger over time, so after 10 years you can go ahead and switch them around without having to scrape them off your walls. Yup, flexibility and not having to fully commit to a layout is fabulous with me!
Worried about the safety factor (what mom isn't)? No worries here! This material is US patented, green and non-toxic. There's no PVC, Phthlates, Clycol-ether or Formaldehyde. It's environmentally friendly and bio-degradable over time.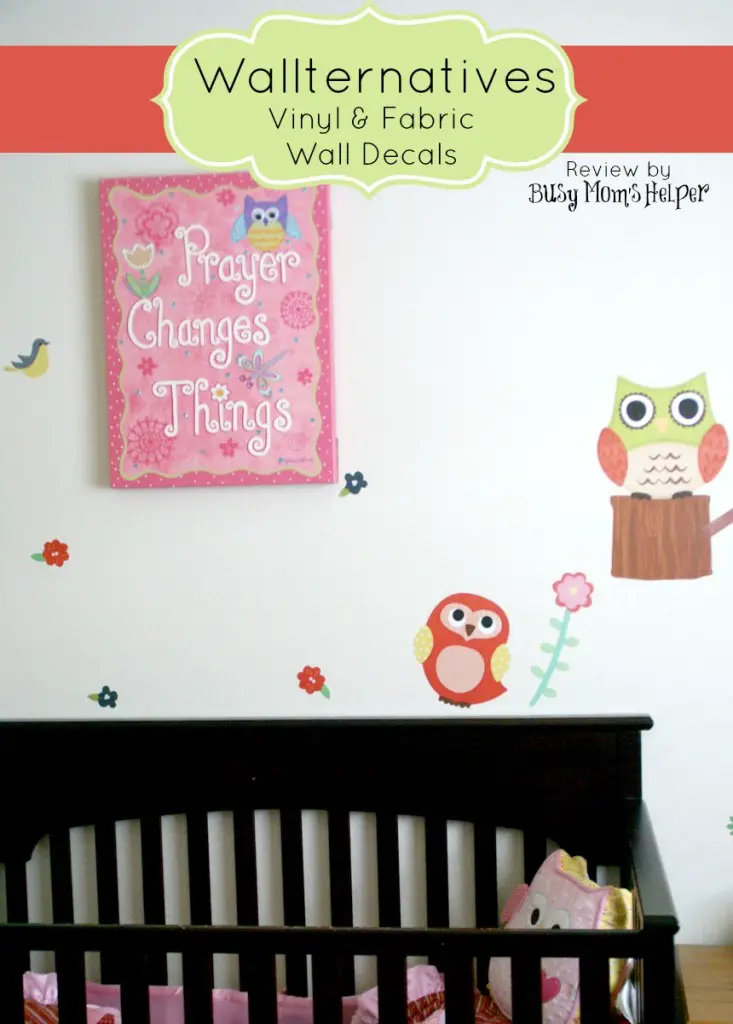 Know what ELSE they have along with their Wallternatives line? ChalkTalk Chalkboard Art! I can't wait to get my hands on some of that and have fun with it in my craft room, the kids' play room….everywhere!
So head on over to Wallternatives and check out their fabulous products for yourself….see which one (or which MANY) you fall in love with!
This content may contain affiliate links. We earn a commission at no extra cost to you if you make a purchase. We may earn money, free services or complementary products from the companies mentioned in this post. All opinions are ours alone…
The following two tabs change content below.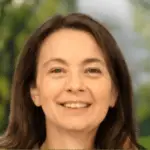 Latest posts by Kelly Dedeaux (see all)