Steak Gorgonzola with Balsamic Glaze
Do you like balsamic vinegar? Like the taste of it? I do, like, a LOT! It's just so….KAPOW with flavor, ya know? So when I go to Olive Garden (which hasn't been in well over a year, but still), I love to order their Steak Gorgonzola with Balsamic Glaze. Yum-o! This is a copy-cat of that, and although it's been quite awhile since I've had the true version to really compare, this was absolutely DELISH, and just how I remembered it.
Okay, I may be drooling again! Oh…and it was super EASY, which I wasn't expected. BONUS!
Ingredients
1 1/2 cups Italian Dressing
1 tbsp. Rosemary
1 tbsp. Lemon Juice
1 lb. Steak filets
1 lb.
Pasta
(I used Rotini)
2 cups Alfredo sauce (you can use
this recipe
just without the red pepper flakes)
1/2 cup Green Onion, diced
4 cups Spinach
3 tbsp. Gorgonzola, crumbled
2 cups Balsamic Vinegar
1/2 cup Brown Sugar
Sundried Tomatoes, if desired
Parsley, if desired
Notes: Read the entire directions, as some of this can be done simultaneously so it can all be served fresh and warm/hot!
Directions
In a bowl, mix the Italian Dressing, Rosemary, and Lemon Juice. Use this to marinate the steak for at least 30 minutes, preferably an hour.
Cook the steak with the marinade in a skillet over medium-high heat until cooked through.
Cook the pasta according to package directions. Then mix with the Alfredo Sauce, Green Onion, and Gorgonzola. Toss with the Spinach.
In a saucepan, mix the Balsamic Vinegar and Brown Sugar, stirring frequently. Bring to a boil, then simmer about 20 minutes.
Pour glaze over steak, and serve along side the pasta. Top either/both of the dishes with more crumbled Gorgonzola, Sundried Tomatoes and/or Parsley, if desired.
This content may contain affiliate links. We earn a commission at no extra cost to you if you make a purchase. We may earn money, free services or complementary products from the companies mentioned in this post. All opinions are ours alone…
The following two tabs change content below.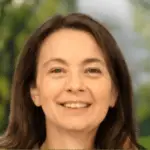 Latest posts by Kelly Dedeaux (see all)