S'Mores Cookie Bars
So you know how Hubby doesn't like much chocolate? If not, now you do! It's often difficult for me, a total chocolate-should-be-a-daily-requirement person, to decide on recipes that satisfy both his AND my dessert preferences. One thing we can SOMETIMES agree on is S'mores. He's picky, though, since often there's just "Too much chocolate" (that sentence is not in my vocabulary, that's totally him). As I was trying to decide what recipe to attempt next, flipping through my notes, checking books for inspiration, and suddenly WHAM! I wanted a S'more. And a cookie. AT THE SAME TIME!
Yep, that had to be done immediately, and Oh. My. Gosh. It turned out so yummy! Hubby even agreed….Woot Woot! He took some to work and they were a HIT. His boss even said they were his favorite thing I've made and sent…even better than the fabulous
Red Velvet Oreo Truffles
I made him special. Wow…you know these are Da Bomb then!
Ingredients
(crust)
4 tbsp. Butter, melted
3/4 cup Graham Cracker Crumbs
(cookie dough)
1/2 cup Butter, softened
1/4 cup Brown Sugar
1/2 cup Sugar
1 Egg, large
1 tsp. Vanilla Extract
1 1/3 cups All-purpose Flour
1 tsp. Baking Powder
1/4 tsp. Salt
(middle layer)
1 1/2 cups Chocolate Chips
3 cups Mini Marshmallows (these work much better than normal sized)
Directions
Preheat oven to 350 Degrees F. Spray or line an 8×8 baking pan, set aside.
Mix the 4 tbsp melted Butter with the 3/4 cup crumbs, then press onto the bottom of prepared pan.
In a large bowl, use a fork to 'smoosh' the Butter, Brown Sugar and Granulated Sugar until well mixed. Stir in the Egg and Vanilla.
In a medium bowl, mix the Flour, Baking Powder and Salt. Add to the sugar mixture until well-combined.
Spread a little over 1/2 of the dough onto the graham cracker crust, saving the rest.
Bake for 15 minutes.
Remove from oven. Spread the Chocolate Chips over the dough layer, followed by the Mini Marshmallows.
Drop the remaining cookie dough in spoonfuls over the top.
Bake for another 10-15 minutes, or until lightly browned.
Allow to cool, then cut, serve and ENJOY!
Makes me dream of summer, how about you?
This content may contain affiliate links. We earn a commission at no extra cost to you if you make a purchase. We may earn money, free services or complementary products from the companies mentioned in this post. All opinions are ours alone…
The following two tabs change content below.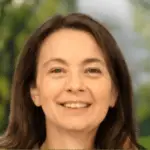 Latest posts by Kelly Dedeaux (see all)