Frosted Keylime Cupcakes
Keylime Cupcakes with keylime cream cheese frosting will bring just the right amount of tropical summer flavor to dessert!
Keylime Cupcakes are a delicious way to celebrate spring and summer get togethers. I just love the flavor of keylimes… compared to regular limes, keylimes are sweeter. Its a nice balance of sweet and tart. Of course, keylimes are best known for being used in Keylime Pie, especially down south. I went to college in Florida, and before that hadn't ever heard of a keylime before! Now, I love using them to flavor all kinds of desserts, like they Keylime Cupcakes.  Then, I took my go-to cream cheese frosting recipe and altered a little to compliment the cupcakes. The result is perfectly scrumptious.
Keylime Cupcakes with Keylime Cream Cheese Frosting
Here's how to make Keylime Cupcakes with Keylime Cream Cheese Frosting. Be sure to pin this post so you can find this recipe again and again! This recipe makes 12 standard cupcakes.
Ingredients
1 1/2 cups all-purpose flour, sifted
1 teaspoon baking powder
1/4 teaspoon salt
1/2 cup whole milk, room temperature
1 teaspoon pure vanilla extract
2 tablespoon keylime juice
1 tablespoon keylime zest
4 oz unsalted butter, room temperature
1 cup sugar
1 large egg, room temperature
2 large egg whites, room temperature
OPTIONAL: I used a bit of green food coloring to achieve the green hue. This step is optional.
Directions:
Preheat the oven to 350-degrees F.  Line your muffin tins, or grease well.
Whisk together the dry ingredients in a medium bowl; set aside.  In the bowl of an electric mixer fitted with a paddle attachment, beat the butter until creamy. Add in the sugar, keylime zest and juice and beat again until fluffy. Add in the milk, egg, and egg whites and beat to combine. Scrape down the sides of the bowl.
Reduce the mixer speed to low and gently add the dry ingredients a little at a time until combined.
Divide the batter evenly between the prepared muffin tin cups. Bake for 20-22 minutes until a toothpick comes out clean. Transfer the cupcakes to a wire rack to cool completely before frosting.
Keylime Cream Cheese Frosting:
6oz cream cheese, room temperature
6oz butter, room temperature
Zest and juice of 2 keylimes
3-1/2 cups powdered sugar
Directions:
In the bowl of an electric mixer, fitted with a paddle attachment, add the butter and cream cheese.  Beat until smooth.  Add the zest and juice from the keylimes and beat to combine. Finally, add the powdered sugar into the bowl and mix gently on low until combined. Beat on high for 2 minutes.
Frost cooled keylime cupcakes by hand, or transfer the frosting to a piping bag. Store any leftover frosting in an airtight container the refrigerator for up to 10 days.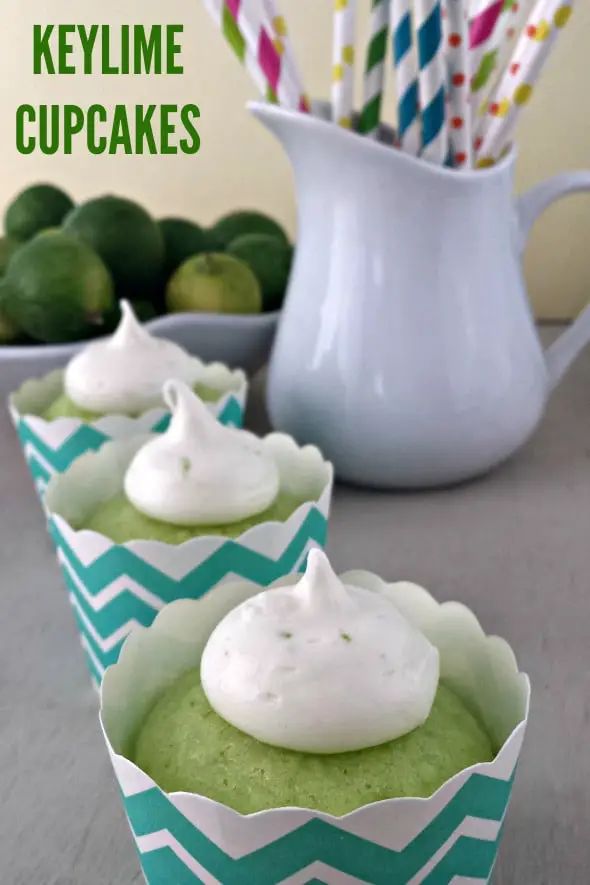 I hope you will enjoy these delicious cupcakes as much as my friends and family do when I make them!  Check out these other great summer recipes:
This content may contain affiliate links. We earn a commission at no extra cost to you if you make a purchase. We may earn money, free services or complementary products from the companies mentioned in this post. All opinions are ours alone…
The following two tabs change content below.
Ang Paris is a crafting and cooking mama who is addicted to Pinterest and chocolate! Ang lives with her husband and 2 children in New Hampshire. After more than a decade multi-tasking in the workplace, she's now a full time mom, writer, and blogger who tweets up a storm!
Latest posts by Angela Paris (see all)