Grow Your Own Garlic to Use as a Natural Remedy
Garlic is a perfect addition to many meals, but did you know that it's packed with essential nutrients that are behind his medicinal properties? Rich in flavonoids, amino acids, polysaccharides, and sulfur, garlic is a potent natural remedy against a variety of diseases and conditions.
It was used as the base for numerous remedies in the past thanks to the presence of yet another powerful compound – allicin. Studies have confirmed that allicin can do wonders against high blood pressure and cardiovascular problems, preventing atherosclerosis and a variety of other problems.
While research on garlic's properties against cardiovascular problems has still not moved beyond theory, garlic has proven itself a powerful weapon against colds and the flu. You can easily prepare a garlic remedy and take it every day to boost your immune system and keep respiratory infections at bay.
Thanks to the presence of antioxidants, garlic may help against dementia and Alzheimer's disease and boost your physical performance. You won't get all of this, however, by buying garlic from the store. The good news is that you can grow your own batch of garlic that you can later use as a natural remedy.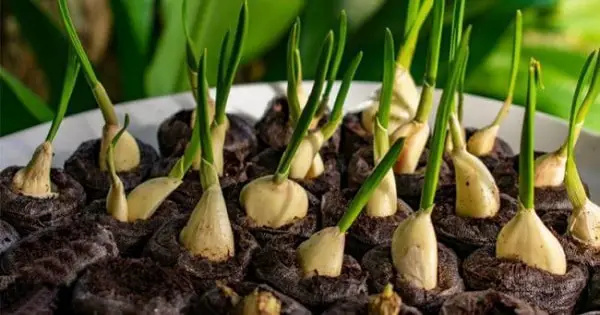 How to Grow Garlic at Home
Garlic should be planted in a sunny spot in your garden. You'll need to make compost of tea mixed with 5-10-10 NPK fertilizer for the soil. Take a garlic bulb and break up the cloves, then plant them into the soil 4-6 inches apart. Cover them with an inch or two of soil, with 5-6 inches of mulch.
Water your garlic when the topsoil is dry and not before. A low-decomposing compost is needed twice a month, and a high-nitrogen fertilizer is required once. Cut off any weeds or flowers to prevent the garlic's slow growth.
You should see the first sprouts in 3 months.
This content may contain affiliate links. We earn a commission at no extra cost to you if you make a purchase. We may earn money, free services or complementary products from the companies mentioned in this post. All opinions are ours alone…
The following two tabs change content below.
Ang Paris is a crafting and cooking mama who is addicted to Pinterest and chocolate! Ang lives with her husband and 2 children in New Hampshire. After more than a decade multi-tasking in the workplace, she's now a full time mom, writer, and blogger who tweets up a storm!
Latest posts by Angela Paris (see all)