Paint and Vinyl: Make Stripes without the Stress
So we're remodeling Wonder Woman's room. By remodel, I mean MAJOR OVERHAUL! Our house is completely new, so it isn't a matter of yuck, just a matter of making it our own. So we're starting by making this room HER own. Starting with the paint!
Now, I love painting, I really do….but this room is having stripes. STRIPES!!! Run for the hills, hide in the blankets, pretend to be sick….stripes are a Pain. In. The. Butt! There's so much measuring, precise-ness, touching up uneven lines, taping GALORE. Ya, not fun!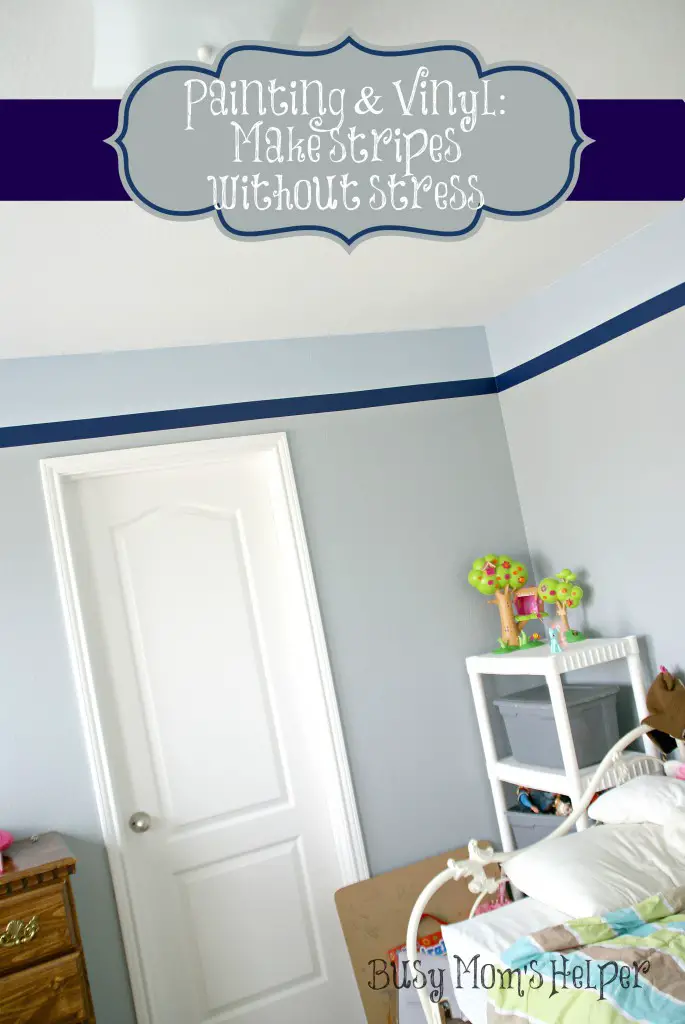 I found a cheat, though! Seriously, SOOOO much easier than any other method I've tried, and it looks FABULOUS! (say that with a Jim Carey – as the grinch – voice)
Now, I'm not going to explain how to paint….like which directions or brushes work best, etc. This is just how to get the lines like this:
Supplies Needed
Frog Tape
Paint
Rollers
Sheets or something to protect…..well, everything you don't want painted
Paint tray
Vinyl
Pencil
Yard Stick
Directions
This is what I was starting with…..
Now, those walls came as 'Polar Mist'. When I hear Polar Mist, I think white. NO! White is that closet door and the trim….these walls are like a TAN color, or 'dirty polar bear fur', as my Sis-in-law says. Even the ceilings are this dirty shade. I like tans, don't get me wrong…but this one is just, off or something.
Note: I did paint the ceiling white, before I did the stripes. Just so ya know!
Step 1: Paint your lower portion. 
So I did a greyish color on my bottom (largest) section of these walls. It's Valspar brand, Autumn Fog. So I taped off edges, and just painted. Now, paint until ROUGHLY where your other color will be about. Get it close, but don't stress about exact measurements, ESPECIALLY if your other color will paint over this nicely. My top color does cover the grey nice, so I erred on the side of higher. Allow to dry.
Step 2: Paint your  upper portion. 
This is the top color, leading up to the ceiling. I did a nice light blue, Valspar brand, Silver Dusk. Again, tape off edges, stir the paint well, etc. Paint from the ceiling down until ROUGHLY where you want the colors to meet. For mine, I did ABOUT 9 inches down from the ceiling, or about the width of my roller (which made it even easier….woohoo!). Allow to dry completely.
Step 3: Measure for the vinyl stripes.
So I just randomly went around the room and measured the LOWEST point that my blue color goes down, and the HIGHEST point my grey goes up. My points were between 8.5 inches from the ceiling, to 11 inches from the ceiling. This shows you your range that you need to cover.
Step 4: Add your pencil marks.
I took my yard stick and a pencil. I measured 8.5 inches down from the ceiling. I'd do a mark every foot or so, then connect the lines and use my yard stick to do a nice straight one. Do this all around the room, so you have your line to cover.
Step 5: Cut and add your vinyl lines.
Since my vinyl needed to cover between 8.5 inches down and 11 inches down (a 2.5 inch range),I cut my vinyl on my oh-so-lovely Silhouette Cameo (love it!) with a thickness of 3 inches. Call me lazy, but I'd rather have some margin for error while applying this.
I then took the vinyl, and laid the top just slightly above the pencil marks (you don't want those to show up, of course)! This way, your vinyl covers your marks, and the tallest point of 8.5 inches down from the ceiling…then it extends long enough to cover the lowest point of 11 inches from the ceiling.
See below, it's cover all the rough connecting points and making it a nice smooth transition of colors. Please ignore my double pencil line here….made a slight goof. That's why I allow room for error…because I make plenty of them!
Then just keep going for the entire room. Careful to keep your vinyl smooth, especially in the corners. Just go from one end, then rub on over to the other end, keeping sure it stays even with the pencil line.
So again this room went from this……
To this!!!
I love it, especially since it was uber easy! Best yet…Wonder Woman thinks it's the neatest room ever, and we're not even done, yet! Stay tuned for many more changes in the bedroom!
This content may contain affiliate links. We earn a commission at no extra cost to you if you make a purchase. We may earn money, free services or complementary products from the companies mentioned in this post. All opinions are ours alone…
The following two tabs change content below.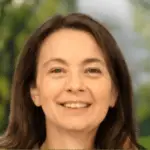 Latest posts by Kelly Dedeaux (see all)