Sugar Free Fruit Salsa with Cinnamon Chips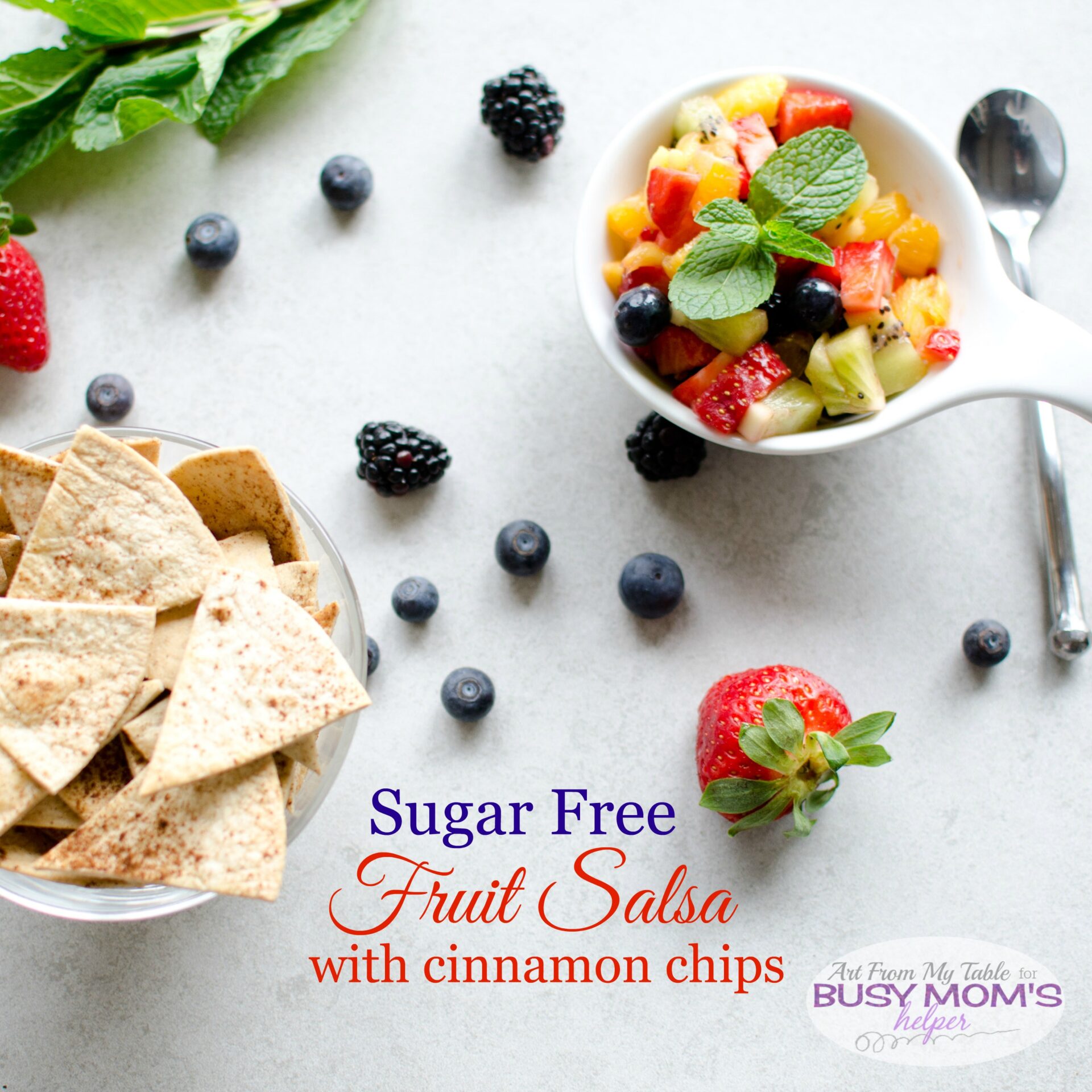 Feeling bored with the same old-same old snacks?  Try this refreshing sugar free fruit salsa!  You won't be disappointed!
I don't know about you, but I try to limit my kids sugar in-take.  But often times, they want something sweet.  Oh, who am I kidding?  I do too! The sugar makes the kids a little crazy sometimes, and it makes my pants too tight. So this is a perfect sweet treat with no sugar.  Fruit, it's good for you!  The kids won't even know ya left the sugar out.  🙂  Try this sugar free fruit salsa for your next afternoon or after school snack.
Sugar Free Fruit Salsa with Cinnamon Chips
This comes together in just three easy steps.
1.  Bake the cinnamon chips.
Take flour tortillas and brush them with melted butter and sprinkle them with a little cinnamon.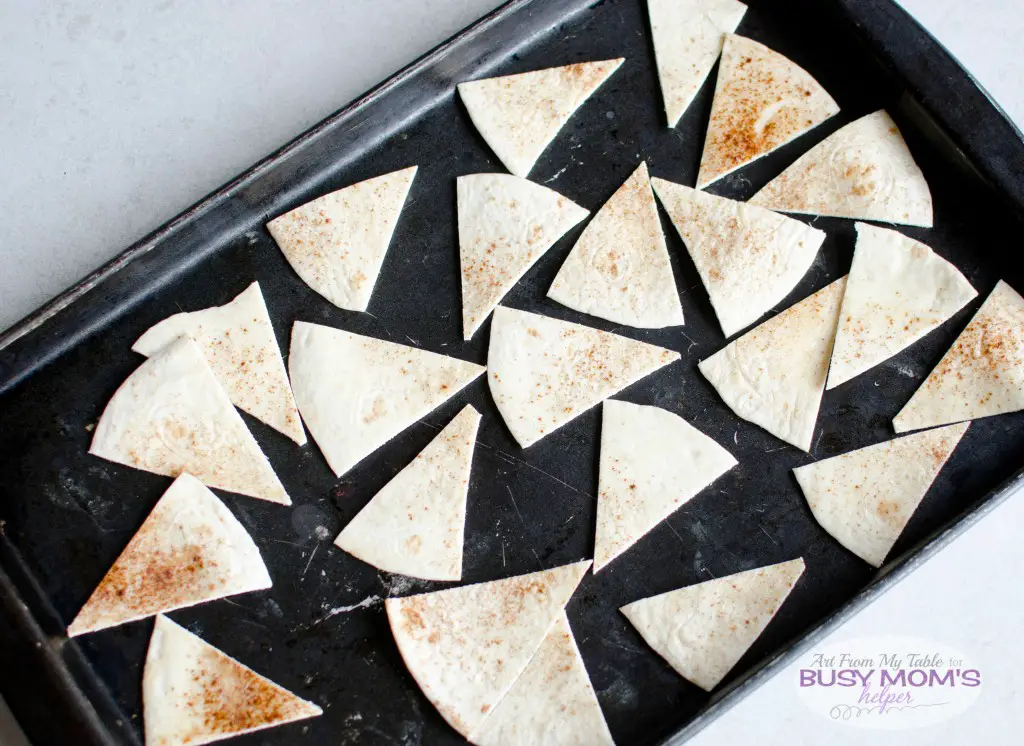 Bake them at 350 for about 12 minutes until they are golden and crisp.
2.  Slice & Dice
Next you'll chop up the fruit, and put some lemon juice on it.  I like the brightness the lemon adds.  I used strawberries, kiwi, oranges, mango, blackberries and blueberries. Fruit salsa is really versatile, so use whatever fruit you like.  Personally, I think this is fantastic combination.  The citrus adds a little something extra.  Yum!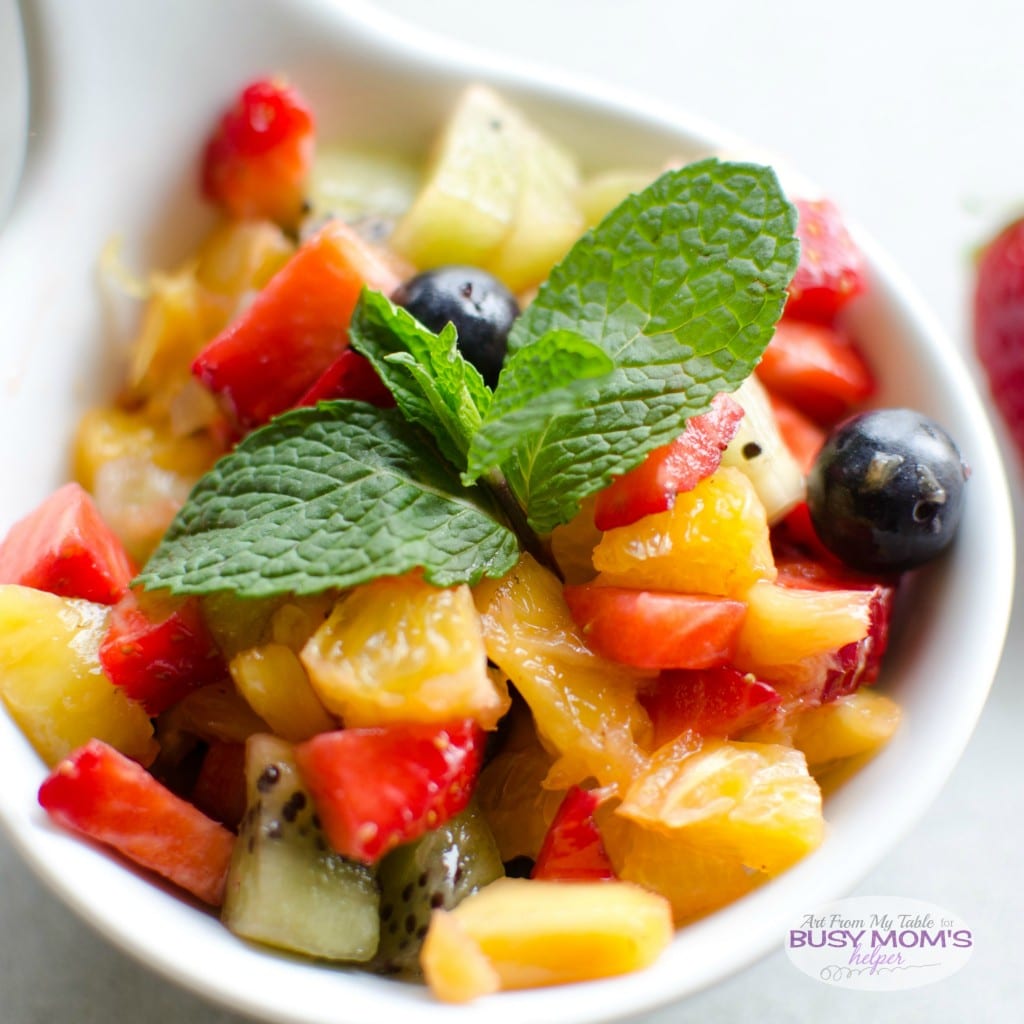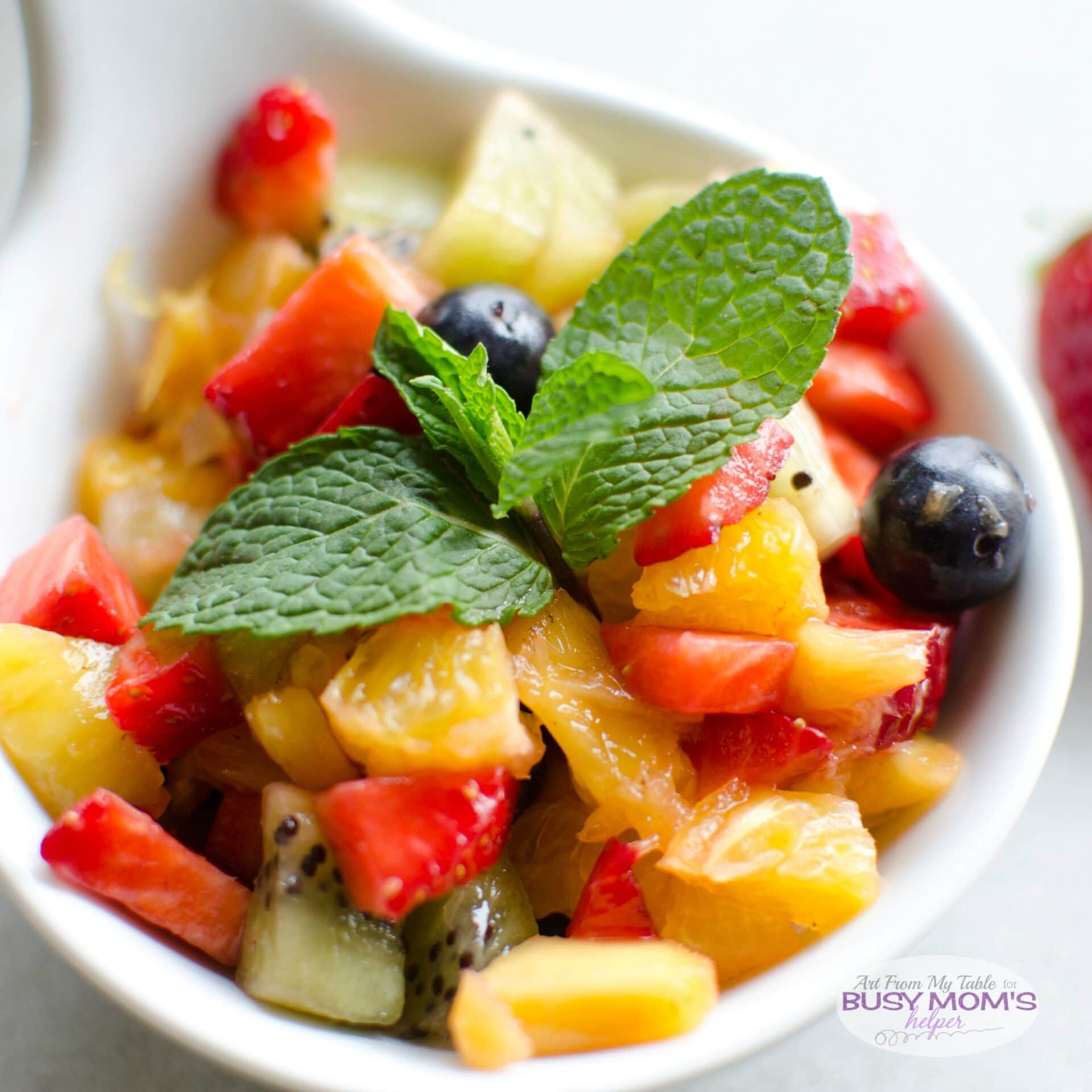 That fruit looks so juicy and delicious!  I just want to lick the screen!  Okay, bad idea.
3. Enjoy!
Lastly, just put it all together and serve it up.  I like to garnish it with some chopped fresh mint leaves.  It's pretty and it tastes fabulous.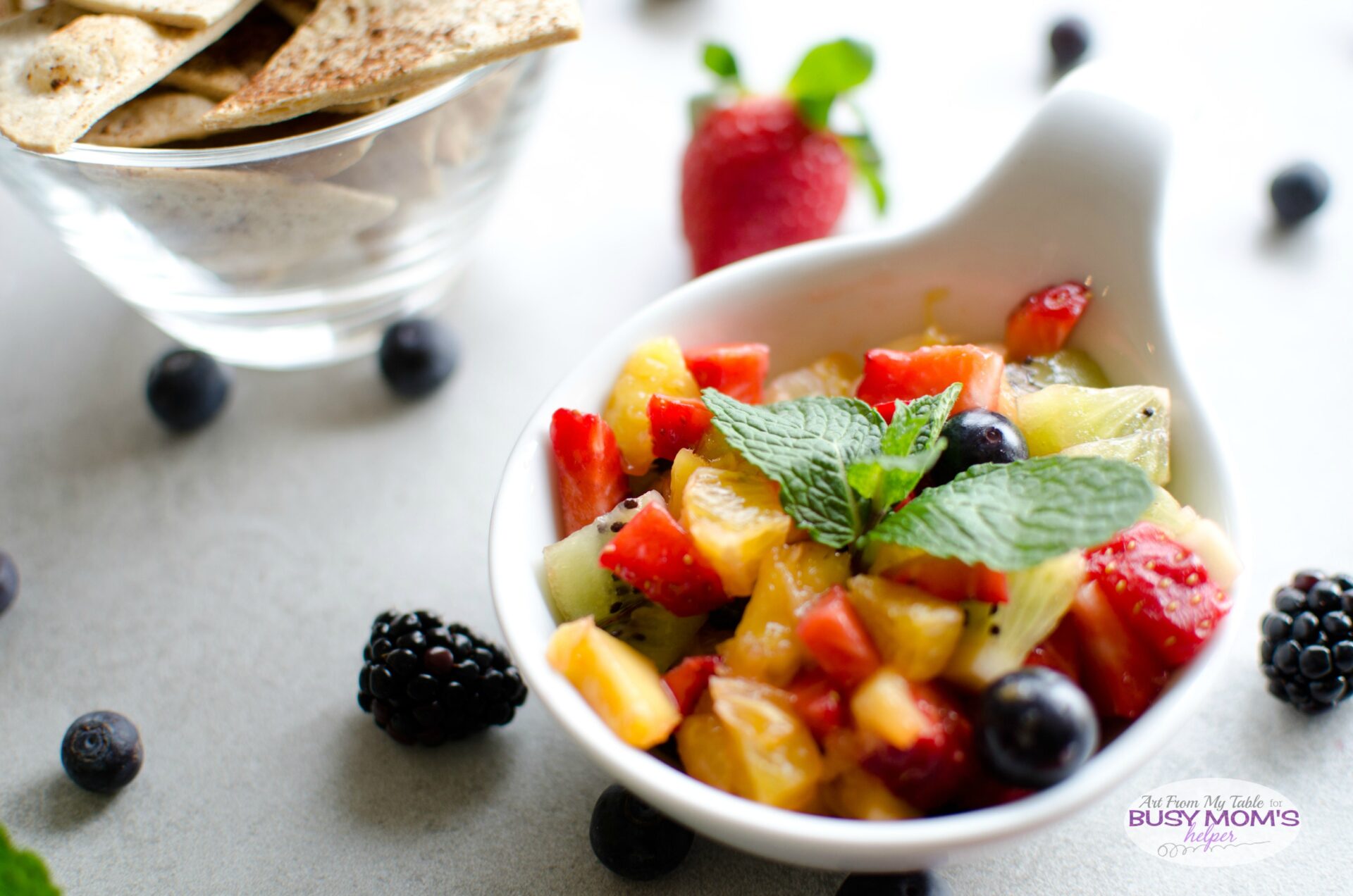 This isn't going to last long friends.
Most fruit salsas do contain sugar.  It definitely sweetens it up a bit, but personally, I think this fruit is sweet enough just how it it.  If we put sugar in our fruit all the time, we'll start to not like it without.  So do something good for your body!  🙂
You'll also notice that there is no sugar in the Cinnamon tortilla chips.  Again, you can do a blend of cinnamon and sugar, but that blend is usually made with two parts sugar and one part cinnamon (that's a lot of sugar!) so again, in efforts to scale back on the sugar, I left it out.  I think the butter and cinnamon is delicious, and the naturally sweet fruit blends it all perfectly.  Have I convinced you to try this yet?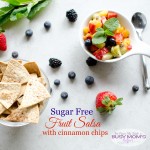 Print Recipe
Sugar Free Fruit Salsa with Cinnamon Chips
Ingredients
4

flour tortillas

2

Tbs

butter

melted

ground cinnamon

1

pint

strawberries

hulled and diced

1

orange

peeled and diced

1

mango

peeled and diced

2

kiwis

peeled and diced

1 6

oz

container black berries

quartered

1 6

oz

container blueberries

Juice of 1/2 lemon

fresh mint leaves for garnish
Instructions
Preheat the oven to 350.

Brush both sides of the tortillas with the melted butter.

Sprinkle both sides of the tortillas with ground cinnamon.

Using a pizza cutter, slice the tortillas into eighths.

Place the 'chips' on a baking sheet and bake for 12 minutes, or until golden and crisp.

Peel, slice and dice all of the fruit and place in a bowl.

Add the juice of half of a lemon and stir to combine.

Garnish with torn fresh mint leaves (optional)
Looking for more fun low-sugar snacks?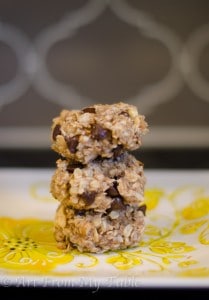 This content may contain affiliate links. We earn a commission at no extra cost to you if you make a purchase. We may earn money, free services or complementary products from the companies mentioned in this post. All opinions are ours alone…
The following two tabs change content below.
Chellie is the author behind the blog Art From My Table, where she shares her passion for celebrating food and life around the table. She believes food is a love language. When she's not developing recipes or writing on the blog, you'll find her spending time with her family, or reading a book.
Latest posts by Chellie Schmitz (see all)